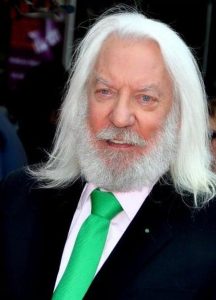 Source: Wikipedia
Donald Edward McNichol Sutherland (born 17 July 1935) is a Canadian actor who has been making movies and been showcased in entertainment news for almost half a century. He has played soldiers in war movies such as The Dirty Dozen, The Eagle Has Landed, M*A*S*H and Kelly's Heroes. He has played other types of characters as well, including recently a part in The Hunger Games.
When he was a child, he was very ill. He originally wanted to become an engineer but changed his mind and attended the London Academy of Music and Dramatic Art. After quitting that school, he spent a year and a half at the Perth Repertory Theatre in Scotland. In the early-to-mid-1960's, he played small roles in British films and TV.
His breakthrough role came in 1967 in The Dirty Dozen. The film was MGM's highest grossing movie of the year. In 1968, he left London for Hollywood. He then made two war films in 1970. He played "Hawkeye" Pierce in Robert Altman's M*A*S*H and Sgt. Oddball in Kelly's Heroes.

Sutherland was a leading man throughout the 1970s. He was in such films as Don't Look Now, The Eagle Has Landed, Casanova and The Eye of the Needle. In 1978, he had a role as Professor Dave Jennings in National Lampoon's Animal house. In 1980, he starred in the Academy award winning family drama Ordinary people with Mary Tyler Moore and Timothy Hutton.
In the 1980s and 1990s, Sutherland starred in movies such as A Dry White Season, Lock Up and Six Degrees of Separation. His recent work since 2000 has included parts in Cold Mountain, Fierce People and Pride and Prejudice.
On the personal side, Sutherland was made an Officer of the Order of Canada in 1978 and was inducted into Canada's Walk of Fame in 2000. He is father to Kiefer Sutherland, an accomplished actor in his own right.
Sutherland is currently married to French Canadian actress Francine Racette, whom he met on the set of the Canadian drama Alien Thunder. They have three sons together.
Sutherland's awards include a Best Actor Genie award for the movie Threshold and a Golden Globe award for Best Supporting Actor for the television show, Citizen X.