Our App of the Day this evening is an application for taking and editing photos that quickly conquered Android users. We are talking about UCAM Ultra Camera , available in both free and paid.
Once you have downloaded the title, you can launch the app to start using its functions. This will bring up an interface that first allows you to take a pictureor shoot a video .
Let's focus on the first features that will certainly succeed in hitting you positively. Room includes UCAM Ultra mode Burst Shot to take up to 100 photos in seconds , simply press the camera key constantly. In addition, clicking on the magic wand you can access a series of filters that will change the recovery in real time.
CLick to see the Best Facebook Downloader App for Android
UCAM Ultra Camera App Features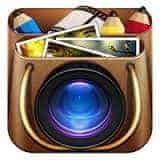 The main screen of UCAM Ultra Camera quickly shows you all of the features it includes.
Read: Download WhatsApp for PC
Collage
The app allows you to select various photos from your gallery to create collages. You can choose from a variety of templates and intervene on each individual photo to position it in the best way.
Editing
You will have the ability to change the photos from every point of view: cut, rotate, add frame, add text, apply effects, draw on it, include the decorations and much more.
Scenery
Plots this function you can create photo montages details.
GIF
UCAM Ultra Camera allows you to create animated gifs using the camera.
PIP
Interesting feature that lets you take a picture within another picture.
QR Code
A convenient two-dimensional bar code reader.
Graffiti
A canvas to draw: you will have brushes, pens and eraser.
SNS Share
A space to share an image on any social network.
Gallery
A section to gain access to this gallery on your Android device.
You can download UCAM Ultra Camera free from the Play Store. There is also a Pro version that includes other features (Section Make-up and landscape mode) at a price of € 1.49 .
Like the article?? Check here for  best top 5 android Games for Tablet