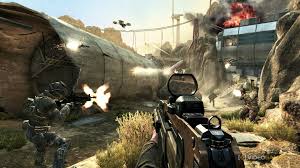 Call of duty-advanced warfare
Advanced warfare is getting the crazy response from the installers. The graphical performance for this game is brilliant working! The newly designed weapons and exo-suits are added into this game. Best suits for multi players and of course single player is also suitable. This is best call game never had made before. This reserved a spot on gamers bucket list.
Spacey very presence and this made a major factor in bringing the game into the life. You cannot help him, but see him on the screen and get into the character like he created! He is not having a major role in this games (he is a villain) he is not having memory as 343 Guilty Spark. You will interact with him outside of cut scenes.
The real star of the game is Exo-suit (Exo from now). The ability of the exo-suit is to perform trick shots. You have to search around the map and over obstacles clearing! The only requirement is Brilliant brain and high configuration PC. The ability is only used when the game tells that you should. You can double jump over the staircase or the wall (single player mode)
Requirements: (Minimum)
The requirements of system are very high. List is given below
CPU: Intel Core i3-530 @ 2.93 GHz / AMD Phenom II X4 810 @ 2.60 GHz
RAM: 6GB
OS: Windows 7/64 bit, windows 8/64 it, windows 8.1/64 bit
Video card: NVIDIA GeForce GTS 450 (1 GB) or AMD Radeon HD 5870 (1 GB)
Free disk space: 55GB
Bio shock infinite
Bio shock infinite is a brilliant game. The Game is about the real story of historical events and Occupy movement. The game has Protagonist, former Pinkerton agent Booker Dewitt, Sent to floating air city of Columbia to find a young woman (Elizabeth), who has been there for most of her days in her life. Though Booker rescues her, they two become involved with the city war. During this war, booker learns that Elizabeth has a power to manipulate tears. Soon discovers her to central city dark secrets.
The player controls Booker Dewitt throughout the game, eventually working with Elizabeth. The player looks stylish by wearing clothing called Gears that offer unique attributes. The control of weapons was highlight in this game. The Columbia city becomes war place for highlighting this game.
Requirements:
CPU: Intel Core 2 DUO 2.4 GHz / AMD Athlon X2 2.7 GHz
RAM: 2GB
OS: windows vista service pack 2 32 bit
Video card: DirectX10 Compatible ATI Radeon HD 3870 / NVIDIA 8800 GT / Intel HD 3000 Integrated Graphics
Free disk space: 20 GB
For More Updates on Games Please Do visit: techpepe