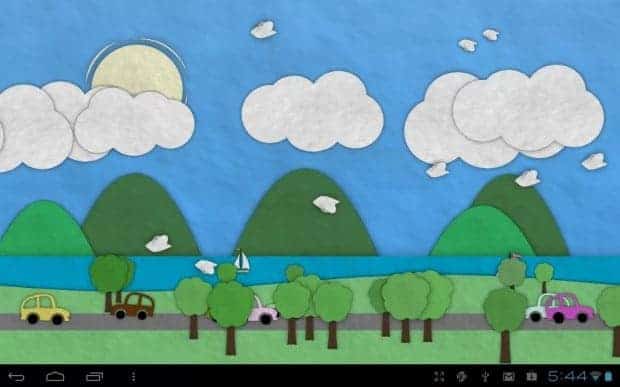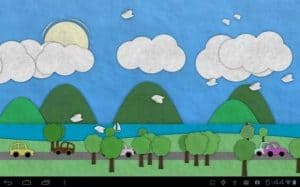 I have always been the hot summer afternoons,  the best time to let go and try, without the hassles of daily productivity, all those app customization that make up the real added value of a smartphone. Applications seemingly trivial, that during periods of increased commitment we tend to leave the second floor.The ability to customize your terminal is a key factor instead of Android and, as always, is much more thrust than the other mobile operating systems. As you might have already guessed,  Paperland is an animated wallpaper. And it is simply … fantastic!
Paperland as mentioned is an animated wallpaper, but in reality it is really much more . 's a small world animated and dynamic , very cute for style and design, where the weather, animals and cars have a life of their own, governed and influenced by some parameters of the real world (for example, the time and the weather) and with a broad appeal to a randomization  advanced to govern the whole. Inside the world of Paperland can be parameterized: the presence of rainbows and clouds, time, passing a Santa Claus with reindeer, the traffic, the presence of buildings or trees and the colors of the seasons.
Personally I keep set to "low" the speed at which the moving elements (eg birds in flight and cars in the streets), and perhaps this is the parameter that makes the impact of Paperland the battery is almost audible. Paperland is an element of customization for your very nice terminals, engaging and fun for all ages, available in both free that premium .
Both are good (try the first free as always) but the premium version is bringing more parameters and a better integration of weather between the real world and the world of Paperland. Paperland is also notable on the tablet , since I installed the Nexus 7 is no longer the same, much more cool.