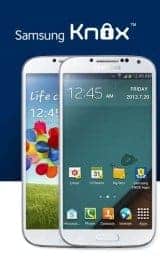 Berlin, September 5, 2013 – Samsung Electronics announced the happening arrival of Samsung KNOX, a system that establishes a fuller and more extensive security, from hardware to applications. Thank KNOX companies can now safely separate the environment and job applications from personal mobile devices for their employees.
KNOX incorporates Security Enhanced (SE) Android and integrated management services implemented in both hardware both in the structure of Android, providing a explanation that can separate enterprise use of the device to a personal one. This separation is enhanced by the combination of SE Android system and a file encryption for enhanced data protection and business applications against data loss and virus attacks and malware.
Check Here UCAM Ultra Camera
Lightweight and suitable with commonly used business infrastructure, such as MDM, VPN, and directory services, KNOX provides safety and convenience for IT departments looking to implement and manage strategies BYOD (Bring Your Own Device). Easily accessible via an icon on the Home screen, KNOX presents users with a wide range of business applications in a secure environment including e-mail, browser, contacts, calendars, file sharing, collaboration, CRM and business applications. KNOX automatically enables the integration of business applications of the Android ecosystem and supports increased security without having to bring changes to the application source code. KNOX relieves application developers from the burden of having to develop business solutions ad hoc, such as VPN, encryption on the device, Enterprise Single Sign On (SSO), Active Directory support and smart card based multi-factor authentication.
Samsung KNOX enabled devices are approved by the Department of Defense for use in DoD networks.Samsung KNOX will be on sale worldwide on all upcoming high-end smartphones and tablets including Galaxy GALAXY Note 3 and Note 10.1 (2014 Edition).