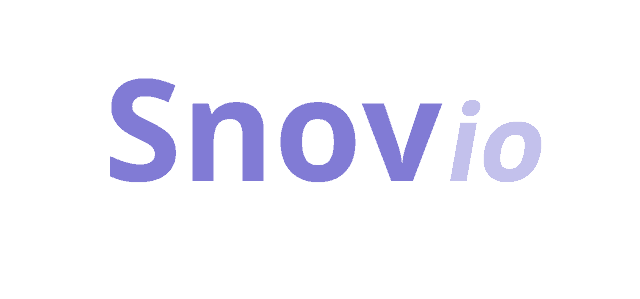 So you've made up your mind to promoting the brand via email and now you scan for the best tools to make the marketing life simpler. From this very moment, you've got to do so much work: find leads and their email addresses, check if they are active and you can safely send drip emails to them, spread emails with relevant content and offers, get the results of the work.
Doing this manually is tedious and it is better for you to have an exceptional tool. Automation is developing and coming to the new level every day and you've got to be ahead of the competition.
So you need a great tool to save money, time, and effort: you need an all-in-one tool. We'd like you to have a look at the all-in-one platform, Snov.io.
What is Snov.io
As it was written above, Snov.io is an all-in-one outreach automation platform with all the features to support you in email marketing and sales. Snov.io is a SaaS platform. This means that all the data is stored and processed in the cloud, your account exists in the cloud, and you don't have to download anything to your PC.
Also, Snov.io lets their subscribers take advantage of Chrome extensions which is really convenient and time-saving. By the way, all their extensions are highly-appreciated and they have almost 5 stars rating in the Chrome Web Store each.
No more general words, let's dive into the details of the platform's features.
Snov.io key features
Snov.io offers 5 tools with lots of useful features. Have a glance at a list of Snov.io main tools.
Email Finder
How are you going to build bridges with a person found on the webpage? God knows, yeah? But Snov.io knows how to do that. With its extension, you can find the person's email address in seconds right on the webpage, be it the professional social network or the search engine page.
Also, within the web application, you can perform various types of email search: single and bulk domain search, Boolean search and social URL search, company profile search and find emails from names.
Email Verifier
Want to be 100% sure the email address is real and active? Not a problem. You can upload a file of email addresses to the email verifier application and simply click the Verify button or activate the extension on any webpage. When the process is over, you've got to save emails to one of the email addresses lists.
Delete the invalid email addresses and get ready for sending out emails to real people.
With this tool, you will reduce bounce rate and improve deliverability and your sender's reputation.
Email Drip Campaign
The tool lets you create follow-up emails that will be sent automatically. Within Drip Campaigns tool, you can perform the following things:
– create personalized emails with custom variables;
– set triggers and delays to let the emails be sent without your participation;
– schedule the email campaign to make emails land in the Inboxes of leads at the necessary time regardless of the location they live in;
– set goals for each email sequence within one campaign;
– add new recipients when the campaign is already launched;
– see the details of the campaign for absolutely nothing (yep, some tools demand money for this feature).
Email Tracker for Gmail
With this extension, you can discover what happens with every email after you've sent it! This tool is 100% free and unlimited, so you will get every single detail on sent emails: clicks, opens, replies, reminders if the recipient doesn't open the message, and you can schedule the emails.  The greatest thing about this extension is that it doesn't add any visible signatures so people will never know if you track their action or no.
Technology Checker
The last but not the least tool is the Technology Checker. It helps you find out which CMS, marketing, web systems, programming, examination, and eCommerce tools are utilized by businesses.
How you can benefit from Snov.io
Here are some benefits of using Snov.io, the all-in-one platform:
Paying once, you get access to all the features mentioned above.

Snov.io is a SaaS platform, so you will never have to download and update anything.

Their Chrome extensions are really useful and time-saving.

The easy-to-use campaign editor will take just a few minutes to find leads' email addresses and create an email sequence.

Snov.io can be used for many purposes: guest posting, promoting the brand, driving sales, etc.

The pricing plans are affordable even to small companies: $29+.
Final chords
Generally speaking, Snov.io is an awesome platform that offers such a significant number of critical tools to find and check email addresses, send email campaigns and see the results of the work performed. Snov.io is definitely an unmeasurably valuable tool for lead generation and email outreach.
It greatly lessens the time needed to discover significant leads and streamlines the whole effort process. You need to simply sign up and add the Chrome extensions to your armor.