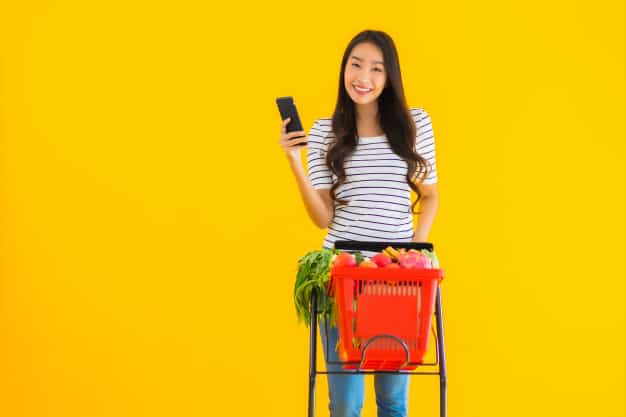 Every e-commerce site loses clients due to cart abandonment; you'll need a cart abandonment plan to ensure those clients return to complete their purchases.
If you manage an online business, you've almost certainly fallen into this issue:
Abandoned shopping carts.
Customers who come to your site, add things to their basket, and then have cold feet at the point of checkout will happen no matter what industry you're in or how well-designed your site is.
This results in a considerable revenue loss.
Fortunately, by implementing a well-thought-out cart abandonment strategy, you can both prevent customers from abandoning their carts and attract those who have done so to return and complete their purchases.
This piece will discuss how to design a cart abandonment plan that will help you reclaim lost consumers.
We've divided the article into sections that explain why individuals abandon shopping carts, how to avoid them, and how to recover from them.
Why do people leave shopping carts? Cart abandonment isn't anything to chuckle about.
Nearly seven out of ten visitors abandon their carts, implying that your sales are likely only a third of what they could be.
You must first understand the fundamental causes of cart abandonment to prevent it.
According to a survey, the following are the most common reasons: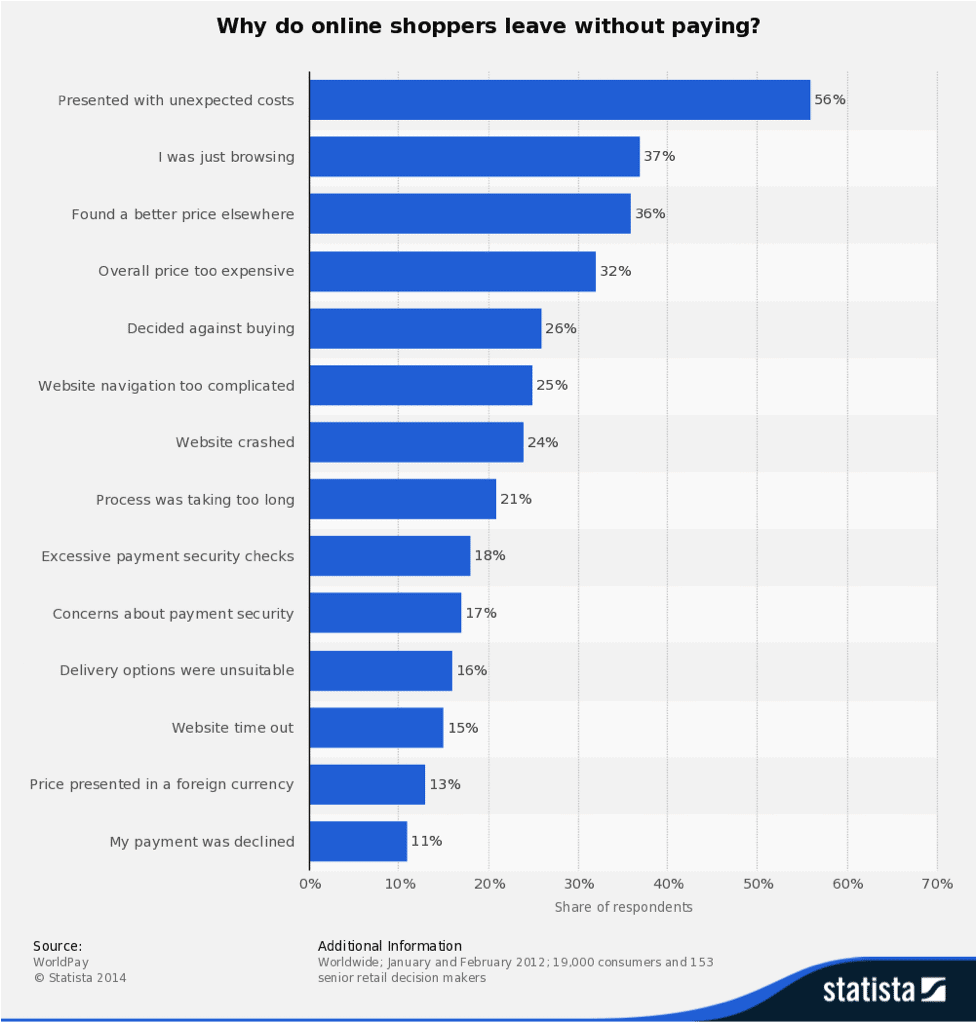 Have you noticed anything?
Concerns about price and challenges with user experience are at the top of the list.
And the rate of cart abandonment isn't improving. Take a look at the average cart abandonment rates over the last eight years: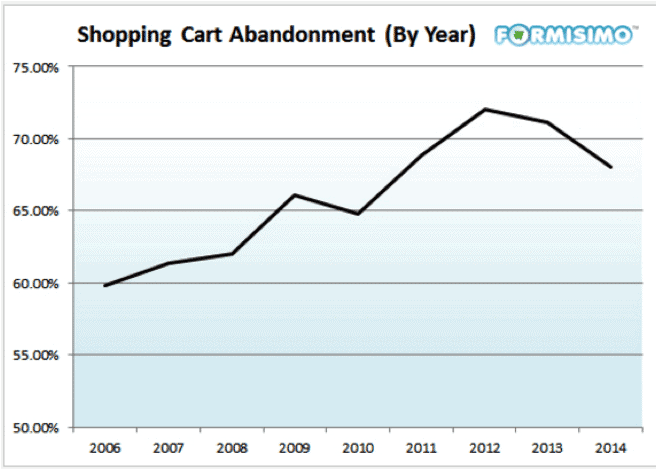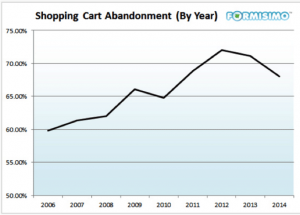 The rate is increasing, not decreasing. Something is wrong with how businesses approach this issue. 
How to keep customers from Abandoning Their Shopping Carts?
Let's inspect these common problems and avoid them by developing a cart abandonment plan.
Reason #1: Unforeseen Expenses
Finding out that the price listed isn't the final price for paying is one of the most common reasons for cart abandonment. Taxes, shipping fees, service fees, and other expenses are frequently added at the end of a transaction, causing buyers to abandon it.
What is the solution? Always be clear about your shipping procedures.
Don't make a consumer walkthrough page during checkout that shows one price only to be smacked with a shipping cost that raises the overall price as soon as they reach the 'complete purchase' part.
Buyers will be taken aback by the price tags and abandon their shopping carts.
If you're going to charge for shipping (or any other extra charges), make sure your customers are aware of it before they start the checkout process.
However, if you want to minimize cart abandonment, eliminate shipping expenses.
What is the reason for this?
Because, according to a ComScore study, 61% of buyers are likely to abandon an online order if they are not offered free shipping.
People do not wish to pay for anything for which they must wait.
You may believe that giving free shipping will eat into your profit margins, but this isn't the case.
You can have the consumer cover the entire delivery cost by requiring them to place a minimum purchase order to enjoy free shipping.
People will, in most situations, shop more than they wanted to receive the reward.
Reason #2: Concerns regarding Delivery and Refunds
Free shipping isn't enough for some individuals to abandon the physical purchasing experience. They can see, touch, and feel a product in a store.
While you can simulate this online by using high-resolution photographs of your product from various angles or offering contextual visuals, it isn't a total replacement for the experience.
As a result, there will be seasons when a product does not meet a customer's expectations, and they wish to return it.
Reason #3: Inadequate Checkout Procedure
If price isn't the reason for leaving, it could be the checkout procedure itself.
If you make the checkout process too long or ask too many questions, 26% of customers will abandon their shopping basket.
As a result, keep your checkout to a maximum of five steps. Your checkout usability deteriorates dangerously after five stages.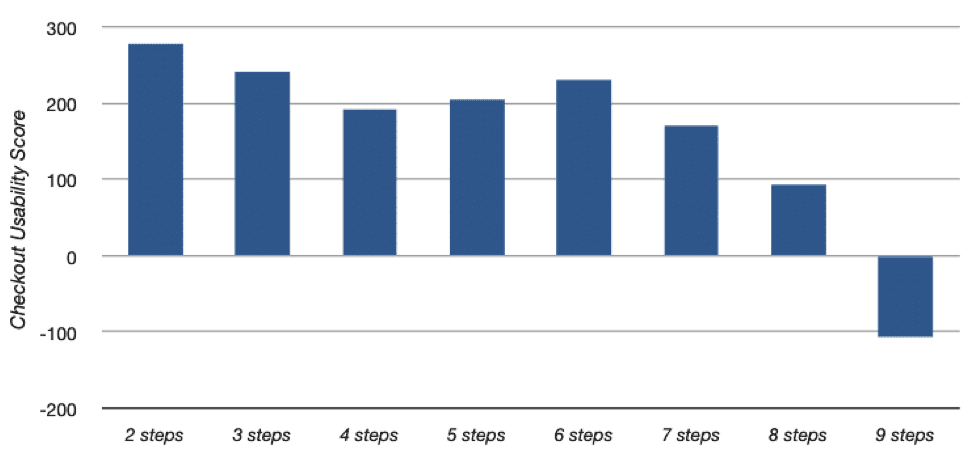 With Cart Recovery Emails, you can Reclaim Consumers.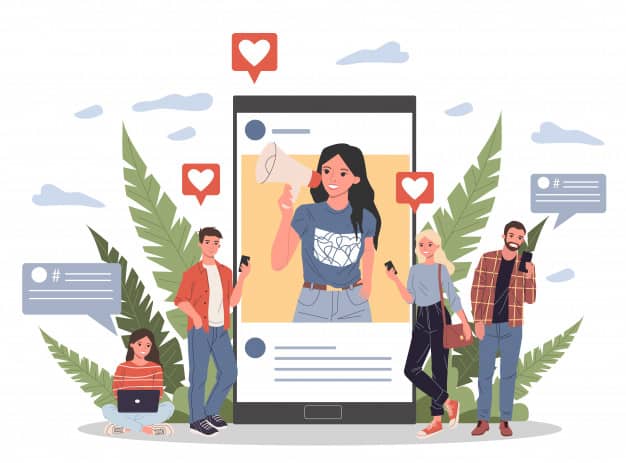 Don't become discouraged if shoppers abandon their carts despite your best efforts.
An abandoned cart does not imply that the customer is uninterested in the product.
This makes recovering at least 35% of business abandoned carts quite simple.
How do you do it?
Using cart recovery emails.
These are one-of-a-kind emails delivered solely to customers who placed a product in their cart but did not complete the transaction.
They're also really effective. Almost half of the recovery emails are opened; nearly a third of these clicks result in a return purchase on the site.
Your email should, at the absolute least, remind a customer of what they left behind.
You should always approach the professional email addresses of your customers when sending your recovery emails. Expert firms offer a variety of email finder tools. 
Like, GetEmail.io assists over 500k customers from over 100 countries in obtaining the email addresses of their prospects, investors, suppliers, sponsors, and competitors to increase their email open rates as well as recovery email results. GetEmail.io is the world's one of the most outstanding email finder tools regarding hit rate (70%), precision, and speed (95%). 
Final Thoughts
Cart abandonment is a serious issue that must be addressed.
Rather than wallowing in the inconstancy of human behavior, use your time wisely to execute a well-thought-out strategy that addresses the fundamental causes of abandonment and assures that a consumer completes a transaction on your site.
If you use the strategies summarized above, you can reclaim your consumers and extensive money.