The E-commerce boom has given rise to a few importers who import their products from other countries like China and then sell them through Amazon or EBay. In fact, most of the neo importers tend to get excited and commit a few mistakes unknowingly. Whether you are importing from China or any other country for that matter, it is important to take care not to commit a few mistakes to stay safer.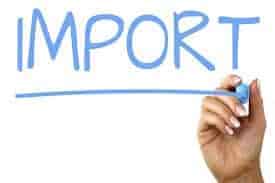 Avoid These Mistakes While You Import from China
Importing your goods from China has its own set of a learning curve you need to master. Not everyone is a master of the import process. Failing to understand the proper rules can ruin your work and make you incur losses in terms of quality and other aspects.
We thought of sharing a few inputs so that you can ensure that you are indulging in the best ever possible import strategy for ensuring safer business practices.
#1 Create Contracts
Never rely on verbal contracts or agreements when you import from China. If you tend to commit errors, they can be costly in the long run. Ensure to get everything in writing. Establish written contracts with everyone you deal with when you are importing from China.
Ensure that you are opting for legal assistance for every kind of contract. The laws in China are entirely different than the ones from other regions. Avoid costly mistakes by staying in touch with your legal
#2 Pricing
One of the mistakes that we normally commit includes being too choosy with respect to the pricing. The novice importers tend to focus on the lowest price. They believe it lets you get higher profits. The cost of manufacturing in China tends to be lower. So if you are looking to a lower price, you will end up getting a low quality product.
How about getting a sample before ordering the items as such? Once you are satisfied, you can opt for mass production.
#3 Understand China
Doing business in China is all about understanding China in a better manner. If you want to be associated with the Chinese exporters, the best you can do is to communicate in Chinese with the quality control section or any other departments.
A sourcing agent like Leeline Sourcing.com can help you avert the mistakes in a better manner. You may think you can conduct business from overseas, but having an agent who has a better understanding of the culture always pays.
#4 Specifications
Opting for a written specification chart is another essential need you should not undermine. If the products you have imported do not meet the standards in the country of import, you will be forced to incur heavy losses.
Make it a point to outline all the specifications in a written form. Opting for a factory inspection before the actual production begins can be one of the best options to ensure that the specifications meet the required standards.
The Parting Thoughts
Well, if you are importing from China, it can indeed be a great option in its own right. But, you need to ensure that you meet the conditions and indulge into it in a correct manner. We assume the advice above will go a long way in enhancing the level of your performance in improving your import experiences.