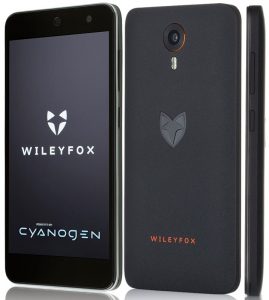 Wiley Fox comes in market with two Smart phones named Storm and Swift. Wiley Fox is a new Android maker company based on UK and has introduced two of its smart phones which runs on Cyanogen 12.2 operating system based on Android 5.1.1 Lollipop platform. Both will arrive in the coming weeks across Europe and the UK.
The device launched with extensive set of features which is the major attraction of the devices such as 5 inch handset with a High Definition display and Qualcomm Quad core 410 chipset. It is having a 13megapixel rear camera and 5 megapixel secondary cameras.
The company is entering into a hotly contested space, and will need its handset to lure potential buyers away from big name brands like Apple and Sony. These two smart phones are mid range in terms of the price at which they are offered and at present these handsets will be available in black colour.
Services Offering by Devices
USP of both the handsets are that they support 4G LTE connectivity and supports for Storm and Swift. The most amazing feature is PIN scramble which let one move the numbers on keyboard and one more special feature is called Granular Control that enables one to control which app should have access to your personal data.
This handsets are powered by a 64-bit Qualcomm Snapdragon 615 MSM8939 chipset also having a 1.5 Ghz Octa-core Processor and coupled with a 3 Giga Byte RAM. There is a inbuilt storage of 32 GB(Giga Byte), which can be further expandable via microSD cards up to 128 GB.
For connecting devices it must includes 4G LTE, 3G, Wi-Fi, Bluetooth 4.0, MicroUSB 2.0 and FM-radio. It also supports Dual SIM and a bigger battery of 2500mAh. It comes with a great budget range, which easily purchase by anyone user.
There is a Protected Apps feature too, which let you restrict which apps are accessible and which are not accessible, if you share your mobile phone with someone else or continuously let your kids use it. The devices majorly use the Cyanogen operating system browser rather than Google Chrome, which the company says makes them both faster and less draining on the battery.
What Company Says about Devices
The company says that no corners have been cut in terms of specs and the quality to achieve its lesser price point and is focusing heavily on making its devices highly customizable. Another point is that, of its approach is to undercut its rivals on price, which may helped along by its comparatively lower costs due to smaller workforce and no legacy devices to support.
As the Cyanogen operating System is user customizable in terms of the way it looks, as well as it will offering more security and privacy controls than a stock Android offering. The Swift will cost of £129 and the Storm will cost £199, putting them more directly up against rivals like the OnePlus 2.
Both will come on the starting week of the October, but presently available only in the online store, rather than in any store shop. These are not the only Wiley Fox handsets in development, According to the company reviews comes out to the new devices that draw on the same partnerships and overall feel will arrive further down the line.
For More details on latest updates just visit: Techie Jerry