SD card, stands for Secure Digital card,is a type of memory card which is available in the market with a capacity of upto 128 TB. Thesecards are mainly used with portable devices such as cameras and smartphones to store digital data. Mostly, SD cards are used to store pictures and videos.
However, these SD cards may get corrupted due to various reasons, making the photos and videos present on them inaccessible.
Reasons for SD card corruption
There can be many reasons for corruption in the SD cards.Here are a few common ones:
SD Card File System: A file system is responsible for the SD card to be compatible with the computer system so that the system can detect the SD card. In case of a corrupt SD card file system, there would be no connection between these two.
Improper Download andTransfer of Files: Improper download and transfer of files such asphotos, videos, audios, etc. from a SD card can lead to corruption.
Using Single SD Card with Multiple Devices: SD cards being used in multiple systems can lead to corruption of data stored in it.
Improper Removal of SD Card: Improper removal of SD card from PC, camera or any other device can lead to damage to the SD card, making the data inaccessible.
Virus or Malware Attack: Viruses and malware can trespass into a system or SD card, and corrupt the data stored on it.
How to recover pictures from corrupted SD card?
To recover deleted photos from corrupted SD card, do not search further and straightaway use the Stellar Photo Recovery software. Follow the given steps to recover photos from corrupted SD card by using the software:
Go to the official website of Stellar Data Recovery India and Download the Stellar Photo Recovery software on your Windows PCor Mac.
Once the download is complete, install the software on the system.
Run the software on the system after the installation is over.
Make sure the corrupt SD card is connected to the system where the software is being installed.
From the main screen,select the location (SD card)from which you want to recover the photos.
After selection of the location, click Scan for search for the recoverable photos.
Once the scanning is done, you can preview the files and select the ones which are needed to be recovered.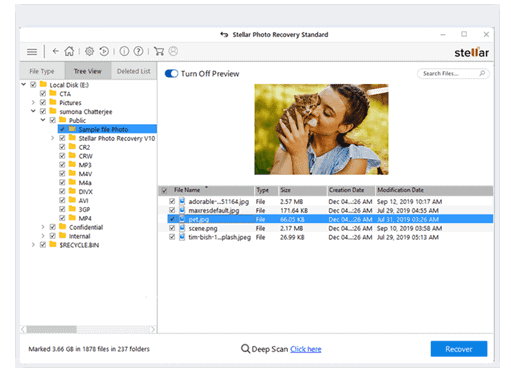 After selecting the files,click Recover.
Lastly, save them at the desired location.
Why only Stellar Photo Recovery Software?
There are numerous reasons to choose Stellar Photo Recovery software for Windows and Mac over all the other luring options available in the market:
Recovery ofVarious File Formats: Not just pictures, Stellar Photo Recovery software also recovers videos and audios of almost all the commonly used file formats.
Original Data: The Stellar Photo Recovery software recovers the lost media files with its original name, date and timestamp.This means it doesn't duplicate the files.
Recover from any Storage Media: This efficient photo recovery software for Windows and Mac users can recover lost and deleted photos from not only corrupted SD card but other types of memory cards, SDXC, SDHC, USB flash drives, CF cards, hard disk drives, CDs, DVDs, etc.
Recovery from Formatted Media: Not just corrupted storage media, the software can also recover files from encrypted or formatted storage media. This means that this one software is enough for various kinds of data loss situations.
Simple Recovery Process: The Stellar Photo Recovery software can recover photos inbroadly three simple steps: Select; Scan; Recover.
Free Demo Version:The free demo version of the software allows users to scan and preview the recovered files, before taking the decision to activate it.
Conclusion
Stellar Photo Recovery software is the best corrupted SD card recovery software in the market. It can recover your photos, videos and audios of various formats from different storage media. With the guarantee of 100% data recovery and safety, Stellar will never disappoint you with its data recovery service through software or in-lab.