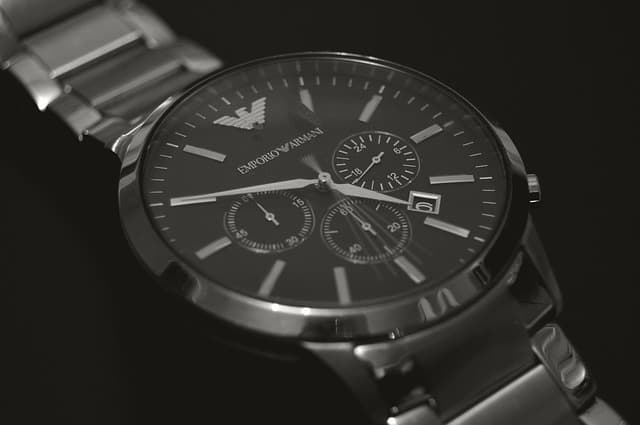 A gentleman will not be complete without a timepiece. One of the best and coveted brands out there is the Armani. Giorgio Armani provides a wide variety of excellent fashion items, and that includes men's watches. If you haven't yet heard about some of Armani's best timepieces, then this is the right time to know them. To upgrade your style, here are some of the best Men's watches Armani has to offer.
Emporio Armani Men's Luigi Watch
For many years now, Giorgio Armani or Armani has been manufacturing premium quality luxury items such as jewelry, leather goods, eyewear, cosmetics, expensive ready-to-wear dresses, and many more. Most of Armani's physical stores are often found in super malls since most people go to malls to shop for their fashion needs.
Giorgio Armani also offers a wide variety of premium luxury watches, which are unique, and at the same time, very fancy. One of its best luxury watches is the Emporio Armani watch, launched in the year 1981 that mainly targets young and energetic teenagers.
If you're looking for the best Emporio Armani watch, then the Men's Luigi is the one to go. It offers a straightforward design combined with elegance. The 46mm chronograph with a blue strap made in silicone combined with blue accents and dials are exquisite to look at. Another good thing to know is that this watch has a water resistance of up to 100 feet.
Armani Exchange Men's Classic
If you want to go classic, the Armani Exchange Men's Classic is one of the best choices in the market right now. Right off the bat, you'll see a full black body case and strap, which offers a masculine feel to it. The Armani Exchange Men's Classic watch provides exceptional quality and one of a kind design queues that you'll not find from other classic watches out there.
The body case is made of high-quality steel colored in black to add a more robust feel to it. Its bracelet, markers, and dials are also in black or gunmetal, which complements the overall design of the Armani Exchange Classic watch.
The Armani Exchange Classic offers an effortless design overall; it's subtle and sophisticated yet very eye-catching, especially for people who love minimalist designs. Unlike the Emporio Luigi watch, the Armani Exchange Classic offers a much better water resistance with up to 160 meters, which is outstanding since it's a classic watch, not a diving watch.
Emporio Armani Classic Leather Watch
Here's another type of Emporio Armani watch; if you don't like the Luigi watch design, then the Emporio Armani Classic Leather watch might get your taste. It's sporty, classic, and at the same time, luxurious. This is what you'll get if you buy one of Armani's Emporio Classic Leather timepieces.
Going straight to its specifications, this watch offers a very high-quality shiny stainless steel body case combined with premium-made black leather. There's nothing so much happening in front of the Classic Leather; the things that you'll only get are the magnified date window, stick numerals, luminous hands, and logoed dials in black.
It's worth noticing that the band comprises premium quality calfskin, which provides a very comfortable feeling. Moreover, it adds to the overall classic design of the Emporio Armani Classic Leather watch.
Armani Exchange Men's Chronograph Dress Watch
The name might be too long to remember, but when you see the exact watch, you will want one. Unlike the other watches that have been mentioned here that offer simple and classic design queues, the Armani Exchange Men's Chronograph Dress watch is different.
This chronograph offers a perfect combination of gold and black accents, making it eye-catching anywhere you bring it. It has a 45mm case diameter with a 22mm width and 12mm of thickness, which is a perfect size for most men out there.
In A Nutshell
The timepieces mentioned above are some of the best Armani watches for men. For sure, there's an Armani watch for any type of man. Whether you are looking for something to reward yourself, or a gift to a loved one, you'll never go wrong with these timepieces. They are flexible, elegant, classy, and the personalities of each watch are unique. Furthermore, Armani watches are a great investment.