For your best Android software management, Coolmuster Android Assistant can be a fantastic option. It is too flexible to deal with Android stuffs like applications, media, connections, etc at a time over your PC. You can have all the functionalities to play on an Android device.
Everything's just a click away
The tool provides adequate back-up for the Android phone over the larger screen, and the best part is that it is facilitated at just a single click maintaining the ultimate quality. Stuffs like music, snaps, and videos can be smoothly taken to the phone from PCs.
Apart from this, addition of contacts, edit, delete, sending messages over your larger screen device, all can be done through it. The tool supports various platforms like Windows 8/7/NT/2000/2003/XP/Vista, and Mac OS X 10.6-onwards.
Coolmuster: So that you loss nothing
Needless is to mention about how crucial a Smartphone/mobile can be for someone. These devices keep all important information of a person. Helpless is something that a person feels once such a device is missed. Anyway, in such an advanced era feeling helpless is something demoralising. You need an efficient back-up, and the Coolmuster Android Assistant is a perfect recommendation on this regard.
Offering such a huge back-up the tool really reduces stress on your Android so that you can have fresh files over here. Restoring the data from the specific or the entire back-up files are done just within a single click.
Arranging the contacts and texts in best way
It's time now to give-up the orthodox method of group chat or the mechanical way of adding contacts.  Coolmuster Android Assistant  gives a fresh definition. Messaging and handling the contacts over PC is just awesome with the product.
Now the product can let you reply message over the PC and facilitate group chat at a stretch, which is really handy in terms of managing time. Making things a lot easier, the product lets you handle all tasks concerned with contacts from the PC.
For the techies and app bugs:
The product can be a perfect gift for the technology passionate, or people those are comparatively more active on medias. The tool comes with entire set of very efficient functionalities those can make your enjoyment faster and better.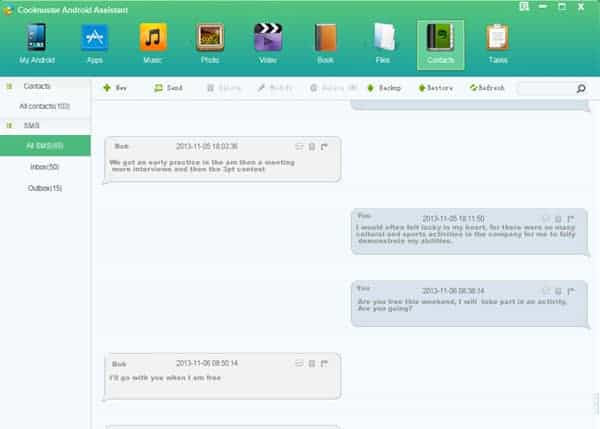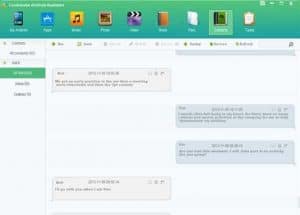 Downloading and implementing the exclusive applications over the PCs and sending those to your Android external memory can be done just through a click. In the same way, you can uninstall the unnecessary application from PCs within a click. Your favourite snaps, video files are transferred simply within seconds. For backuping messages, contacts or other data, read this article on how to backup Android on computer .
Safe, device friendly
Above all its functionalities, the happiest point is that the product is hundred percent authentic and plays nice over almost every Android mobiles and slates. It has been thoroughly tested prior making it available. There is no fear of any android data getting hampered as the product takes care through read-only ways.
A huge range of Android associated names like Samsung, HTC can deal well with the product.