Mumbai has constant influx of people from around the world whether to enjoy the sites or just on some sort of business trip. Therefore, the city has various cuisines that one can experiment with. Out of these cuisines, if someone is craving for American food, then here are six most famous restaurants in Mumbai.
The American Joint:
American Joint Borivali is a place where you can enjoy real American cuisine in a healthy and vegetarian way. People generally only know the non-vegetarian delicacies in American cuisine and forget about how delicious their vegetarian dishes are. This place offers you healthy vegetarian American food. Chocolate Mousse and Ferrero Rocher Shake here are something you would never say 'no' to even if you are full. The place and the ambience are kid friendly and perfect for families. You get non-alcoholic beverages here and they are really top notch. Nachos, Tortillas and Burgers are famous here.
Address: First Floor, Capital Building, Bandra Kurla Complex, Mumbai
Play – The Lounge:
If you are not a fan of vegetarian or healthy food and enjoy a pint of beer with American  food, then Play – The lounge is the place for you. It is mainly a bar, but serves finger food, Italian, continental and American cuisines. The place has food for all the vegetarian lovers. It has a full bar, so you can enjoy any and all types of combination of food and drinks. The place screens live sports and there is of course a DJ. The ambiance of the place would make you want to stay there all night. It is one of the premier party destinations of Mumbai as well.
Old Wild West:
Even the name of this place suggests delicious American food. When you want to enjoy proper American, Continental or Mexican cuisine, this is the place to go. The place isn't that expensive either and you can get a pint of beer for about INR 175. It is open till 1:30 AM at night, which makes it one of the premier night life lounges of Mumbai. The food is served in small portions and is exquisite. The Vegetarian Fajitas and Chicken Wings are must-try delicacies  here.
Address: First Floor, Trade View Building, Kamala Mills Compound, Gate 4, Senapati Bapat Marg, Lower Parel, Mumbai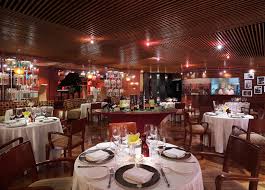 The Junkyard Café:
Situated in Bandra West, The Junkyard Café is frequented by celebrities very often. It serves North Indian, American and Mediterranean cuisines and a pint of beer costs about INR 95 here. The place's décor is exactly like a Junkyard and this appeal is why it is so adored by everyone. The food is excellent too, especially their Nachos.
Address: 164, Hill Road, Bandra West
Summer House Café:
People absolutely love this place in Lower Parel. It is one of the best bars and casual dining places in Mumbai. There are a lot of gigs and events, which are held here. Other than that, the place has live music, DJ and the ambience is pretty homely too. You can enjoy excellent American, Italian as well as Lebanese cuisines. The place is a little expensive, but offers the tastiest food.
Address: Todi Mill, Lower Parel, Mumbai
Sirocco:
Sirocco serves various cuisines, but American is one of its best. Other cuisines include Middle Eastern, Chinese, Italian and Finger Food. This place is a complete package and the owners have left no stone unturned. You get outdoor seating, nightlife, dedicated smoking area, Wi-Fi, pool side seating, live sports and music, and a full bar. The hookah here is excellent too.
Address: Inch By Inch Body Temple, JP Road, Off Yari Road, Panch Nagar, Near D Mart, Versova, Andheri West Mumbai 400061, Versova, Andheri West
If you are an American food lover in Mumbai, then these places are a must-go-to.. You would get top quality at reasonable prices.